The scaffolding has come down to reveal our near-complete £13.5 million, DfE-funded renovation project at Morley College London's North Kensington Centre for Skills on Wornington Road, W10.
We're focused on making Morley College London the best place to learn. That's why we've embarked on an ambitious upgrade programme that will make the North Kensington Centre one of London's top places for higher and further education.
As the main construction phase has now completed, we are excited to be welcoming visitors back to our new main entrance and cafe and open the ground and first floors of the building. Having achieved handover, we continue with the final fit-out process to get the building and all its new facilities ready for full use. The building is due for official completion early next year.
The centre will include exciting, innovative learning and skills initiatives such as:
A skills and pathways Advice Centre to provide advice to the whole community
A new and much needed Performance Hall to develop performing arts opportunities – due for completion later in the year
The re-opening of our refurbished crèche which is free to students and vital in supporting inclusive study for all
Latest updates
About the renovation
Our mission is to create an exceptional student experience across our three centres of learning. In line with our founding principles of social justice, we want to inspire individuals and strengthen opportunity for the North Kensington community through the transformative impact of lifelong learning. To do this we need a college that is the best it can be.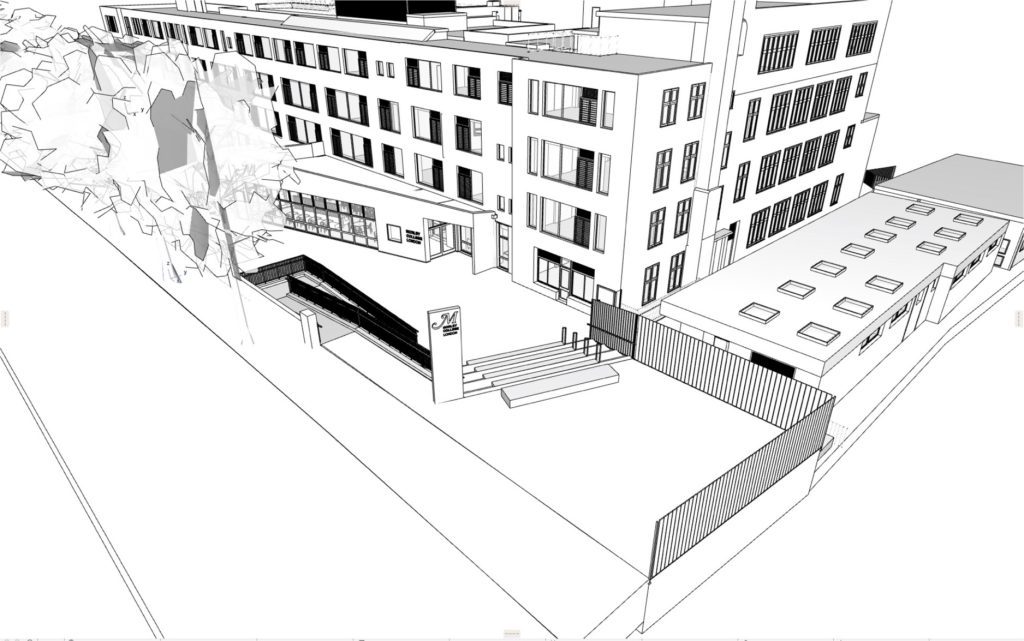 Highlights of the renovation will include:
Front extension to create new accessible entrance
Three-storey rear extension with multi-use community and performance hall and additional teaching spaces
State-of-the-art classrooms and studios to support creative courses in glassmaking, jewellery, design and ceramics
Bright, glass-fronted café for staff, students and the community
Music studios and radio production suite
Re-instatement of Morley Heart Gardens and landscaping
Additional secure bicycle storage
When will the new building be completed?
Over the next 6 months, the North Kensington Centre will complete its transformation into a bright, modern building that will allow us to significantly improve our learning environment and facilities for students and the wider community.
From the new academic year (beginning September 2022) we will start to unveil areas of our new college, beginning an exciting new chapter in the history of a site that has been a home for education since the 19th Century, as Wornington College, and more recently as the former Kensington and Chelsea College, which merged with Morley in 2020.
Maintaining student experience through the building works
The North Kensington Centre has remained open throughout the pandemic, continuing to welcome our students and maintaining face-to-face teaching and learning where national restrictions have allowed, as well as supporting our students through assistance programmes (ALS) and wellbeing services.
We continue to operate during the building project, working closely with our construction partner, Morgan Sindall, to mitigate disruption and undertaking construction work out of hours where possible.
Our course offer is already up and running, and will expand and develop as we go. We offer a wide range of courses for 16-18s and adults, including:
short courses 
creative courses (jewellery, ceramics and glassmaking) 
essential skills and ESOL 
access to higher education 
digital skills 
urban music 
humanities 
career boost and free courses 
counselling and psychology 
health and social care 
early years 
applied sciences (Nursing, Midwifery, Paramedic)
Why should I study at North Kensington?
This is your local college, we have always been here and we are excited to deliver a new future; a refreshed, renewed building that matches our ambition as London's largest adult education college.
We offer a warm, inclusive welcome and currently benefit from smaller class sizes, tailored individual learning and support options and pride in the education we continue to offer as we build better for the future.
We also offer a FREE creche for our students – an invaluable service to support learners with childcare responsibilities.
Keeping the community informed
Morley College London and builders Morgan Sindall will keep residents and other stakeholders up to date during the renovation process, through various newsletters, and our committed Stakeholder Advisory Group, which includes campaigners who fought to preserve the college as a much-needed centre for adult and youth education in North Kensington.
We are always open and happy to answer your questions so do come and see us! Our open days happen frequently throughout the year – they are the best way of meeting tutors, seeing our facilities and finding out more about a course you might like to study.
More about North Kensington
Our courses at North Kensington
Related news