Strategic Plan 2021 – 2025
Welcome to Morley College London — an Institute of Adult Learning, founded in 1889, making a unique contribution to the further and higher education learning landscape of London.
---
Morley is a place of strong social values, creativity and a shared commitment to meeting the needs of students and the diverse communities from which they come. At Morley, we're excited by the power of learning. Every day, the work we do demonstrates the transformational capacity of learning for individuals, organisations and communities that are as diverse as the city in which we live.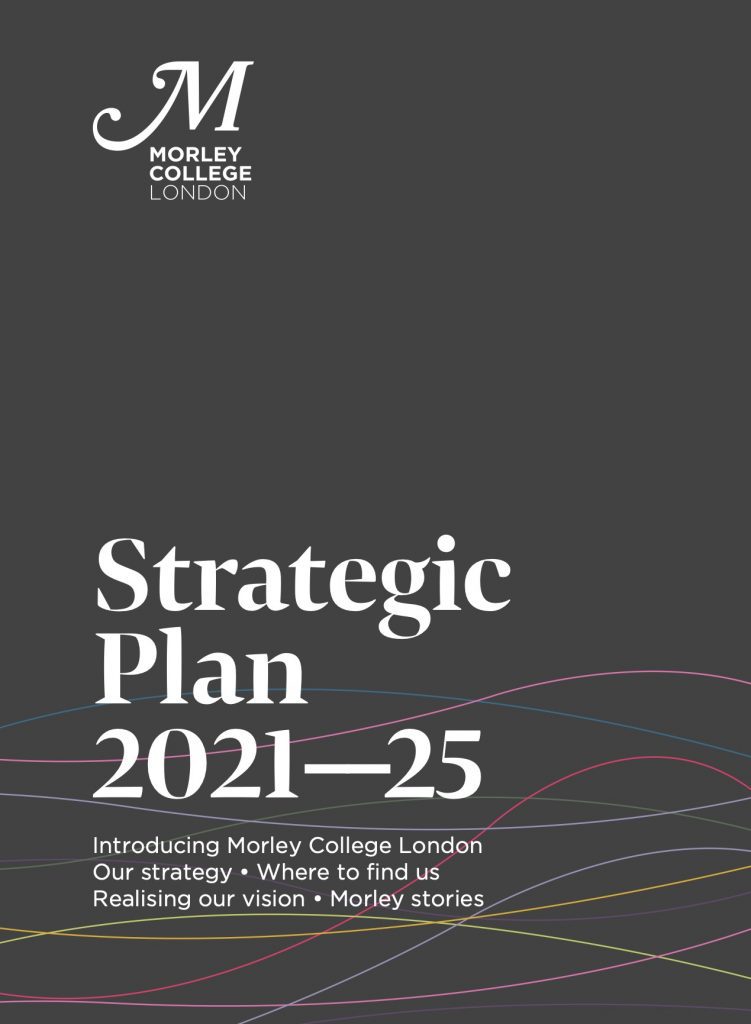 For these reasons and more, we're committed to learning being inclusive, to broadening participation, and to doing all we can to support people to keep learning.
To learn with Morley is to bring out your potential, restore your self-belief, and create new opportunities.
The period of this Strategic Plan, to 2025, will be a time of change, challenge and opportunity, with both expected and unexpected impacts of the worldwide coronavirus pandemic, Brexit and technological change continuing to have a profound effect on people's lives and wider society. Perhaps one positive Covid consequence is the groundswell of agreement that lifelong learning is important and to be encouraged at every age and stage of life.
Learning fosters a shared understanding of our past, present and future. It gives impetus to the quest for knowledge
and our acquisition of skills. It supports progression in work. It gives confidence that we have the capacity and resilience to adapt to change. It creates new friendships and collaborations. And it contributes to our physical and mental wellbeing, promoting a healthy balance between life and work.
Despite ours being a city of great opportunity, the Mayor of London's Skills for Londoners Strategy and Adult Education Roadmap describe persistent challenges of inequality and educational disadvantage that must be addressed.
In the coming years, now as a London-wide college with centres in North Kensington, Chelsea and Waterloo, Morley will seek to make a bigger and bolder contribution to learning in the capital and beyond.

The Morley team is committed to achieving positive change to address those challenges, and this plan provides
the framework within which we will take forward our Morley Mission, working in close collaboration with partner educational institutions, employers, local authorities, and voluntary and community organisations.
We hope you find this plan a persuasive proposition. If you would like to partner with the College in some way, please do be in touch.
We look forward to working with you as a member of the vibrant, exciting and inclusive Morley family.
---