Morley students centre stage: Awards ceremonies celebrate students' talent and determination
Over the last fortnight, Morley has celebrated student success both north and south of the river at a series of student awards ceremonies.
NORTH KENSINGTON
Celebrations kicked off with North Kensington Centre's awards on 22 June, guests celebrated an evening of award-giving alongside a private view of student work, 'ReCreate'.
The atmosphere was electric as each student took to the floor to receive their accolades. Jokes, friendly banter and so much warm support for our award-winners (many of whom had proud family members with them) summed up the vibe as their tutors spoke about their achievements.
"I didn't know what a placenta was. Now I do. I can go to University with confidence thanks to my wonderful teachers," quipped Midwifery student Sepan Dawed, who will go on to study at university this September.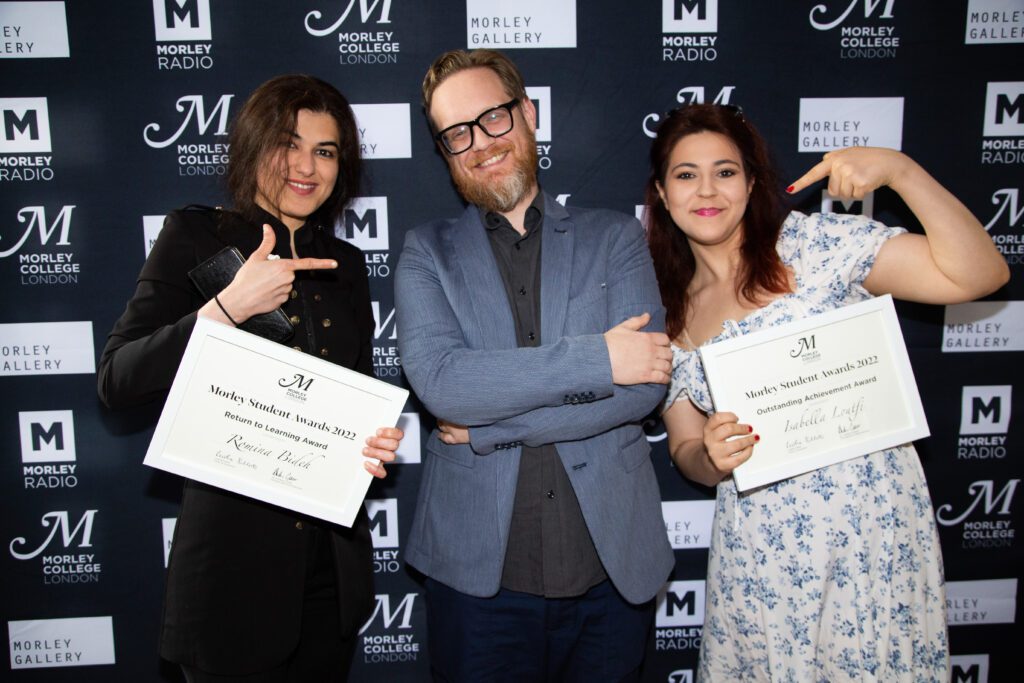 Timing is everything, with Hedi Baltaief waiting for the cheers and uproar to die down as he collected his Social Justice award before declaring simply, "You know how we keep it."
Craig Hanlon-Smith, Centre Principal, summed up the evening when he spoke about Craig Delaney, Centre Principal's Student of the Year Award Winner, "It is all about keeping faith in yourself. Craig has done this throughout and is one of our finest students."
CHELSEA
Taking place on 30 June amidst the Private Viewing of the collegewide end-of-year show, Never Still, Chelsea's awards ceremony celebrated successes in the Centre's three main curriculum areas – Media, Design and Art – as well as recognising specific achievements in Higher Education.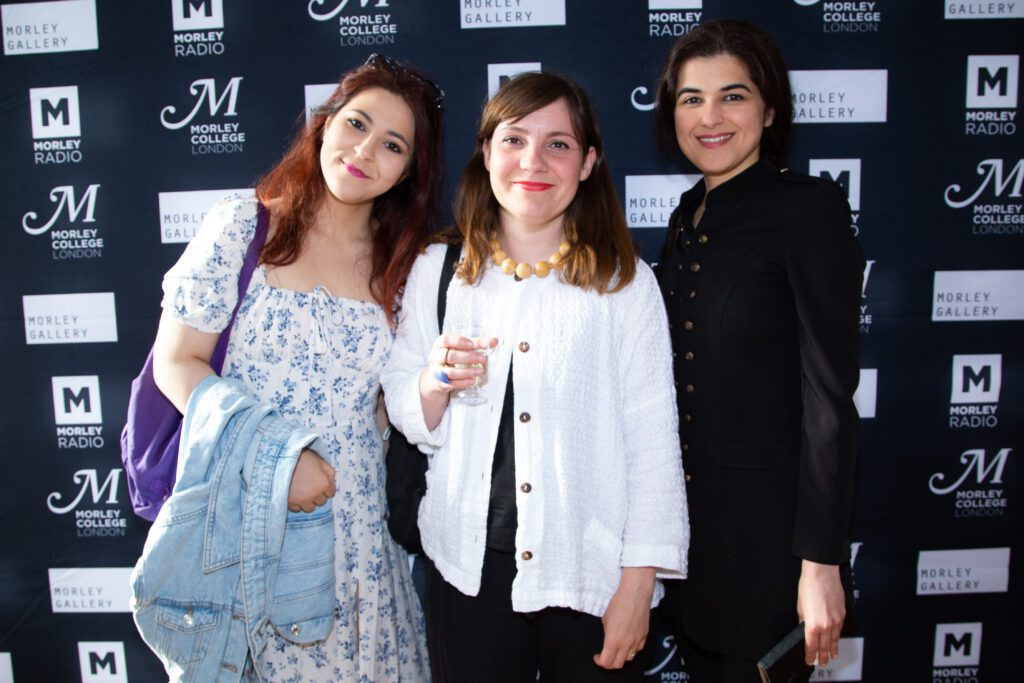 Centre Principal Matias Shortcook said: "Following a busy, vibrant year at our Chelsea Centre the student awards gave focus to the work and creativity of our wonderful students. The award winners really deserve their recognition but I hasten to add that all of our students have worked wonders this year in their individual fields and qualifications. I would also like to recognise our academic and support teams who support and inspire our students every day. The creative industries, that energy and passion, lives large at our centre thanks to the great work of everyone within our unique learning community."
WATERLOO AND STOCKWELL
Tuesday 5 July saw our Waterloo and cross-centre student awards take place at our Stockwell Centre on Studley Street. Stockwell is the college's hub for community learning, featuring a well-tended garden that lent itself to the celebratory atmosphere of an awards ceremony.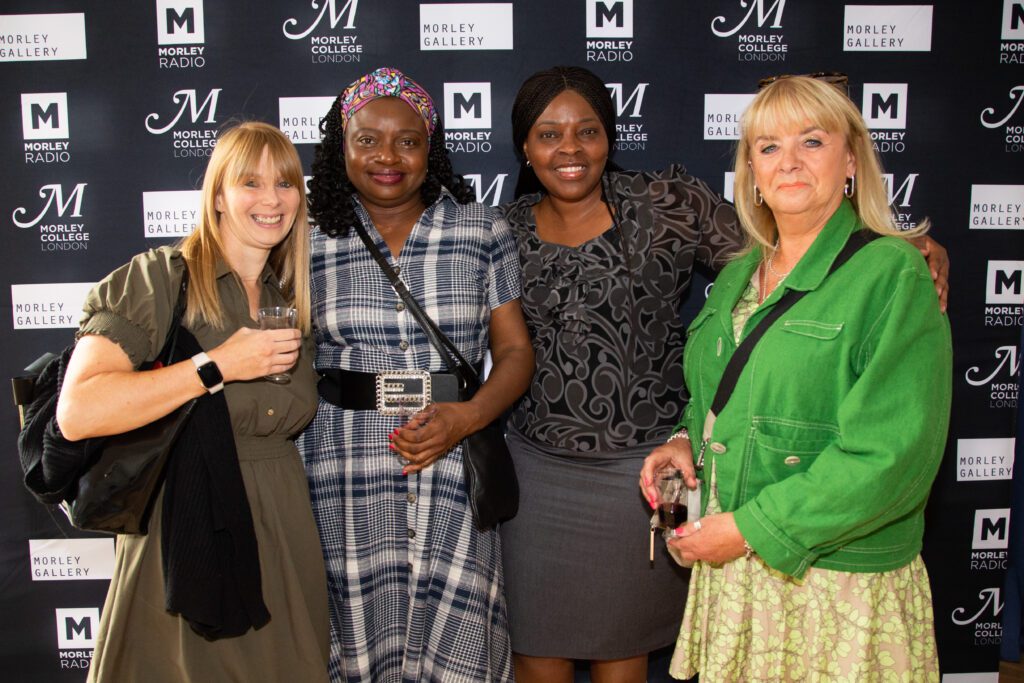 We played to the strengths of the centre, using the community hall, main hall and garden to host our enthusiastic guests, many of whom were visiting the centre for the first time. Guest feedback was very positive, from tutors, students and members of our Board of Governors who supported the event.
The main event was, of course, our students, from Gavin Nicholls, studying mental health nursing and the only male on his course, to Bukky Shodipo, a mother of four young sons who has pursued her qualification in Entry 1 English, Functional Skills.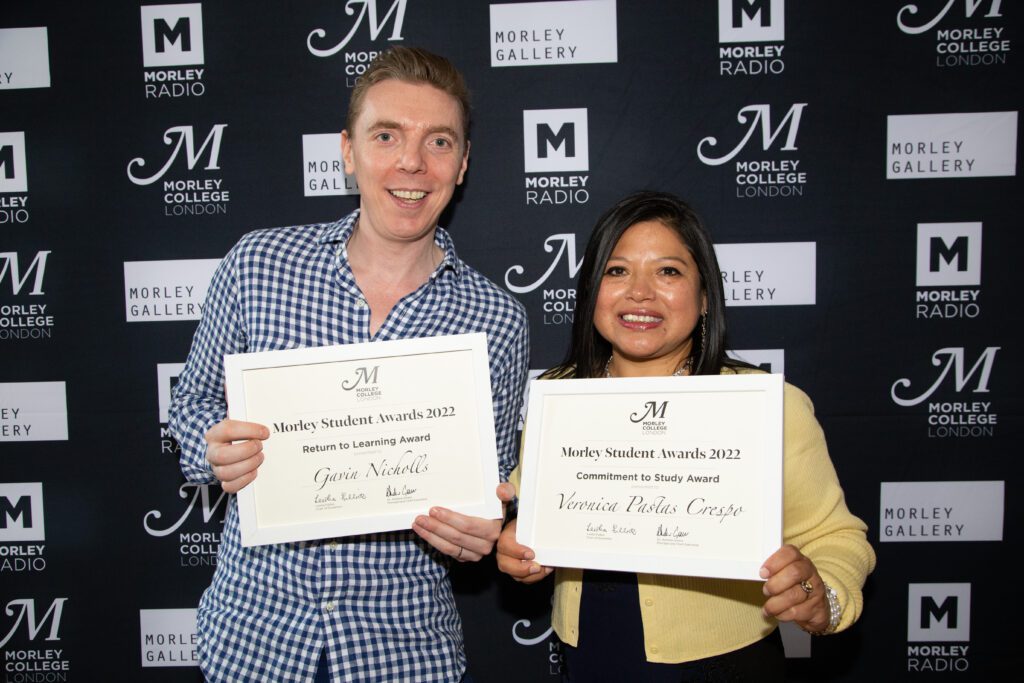 Lifelong Learner Award winners Peter Savile and Diana Vivas Navarro represented their peers at Chelsea and North Kensington, as awards were given to Waterloo and Stockwell based students in categories ranging from "Return to Learning" to "Outstanding Achievement".
The Awards ceremony was presented by Dr. Andrew Gower, Principal and CEO, Marco Macchitella, Deputy Principal/CEO, and Leisha Fullick, Chair of the Governing Body.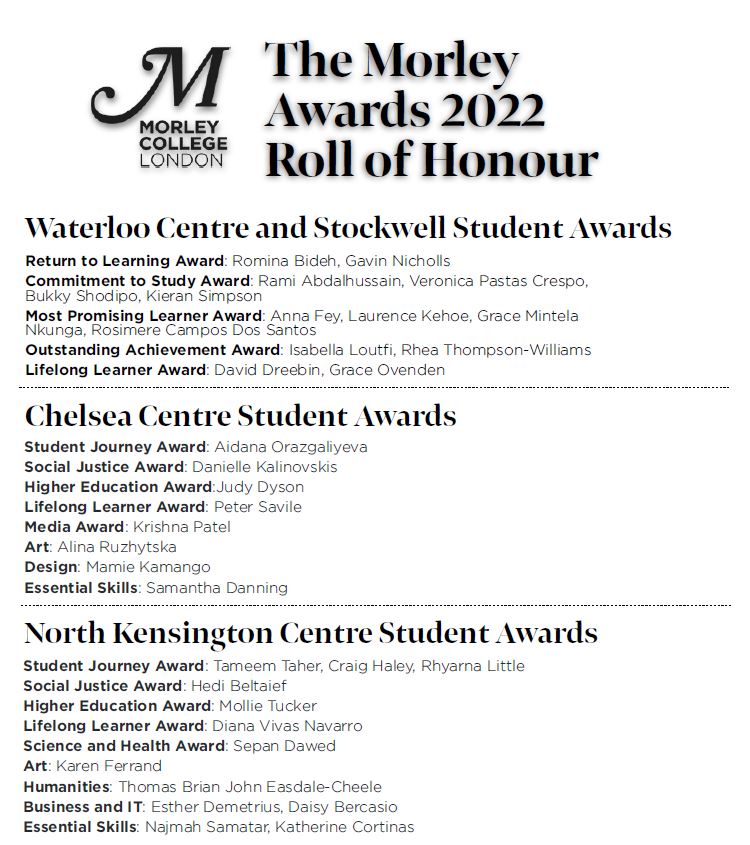 See more about our Morley Awards 2022 Roll of Honour
AND FINALLY…
Morley students were also celebrating success at Brixton's Ritzy Cinema last week…
LAMBETH TOUR GUIDES GRADUATION CEREMONY
Working with Morley College London, the London Borough of Lambeth now has its own specialist tour guides, telling the borough's hidden stories and celebrating its diversity. On 7 July, we celebrated students who have successfully completed a year-long course at Morley College to become accredited Lambeth Guides.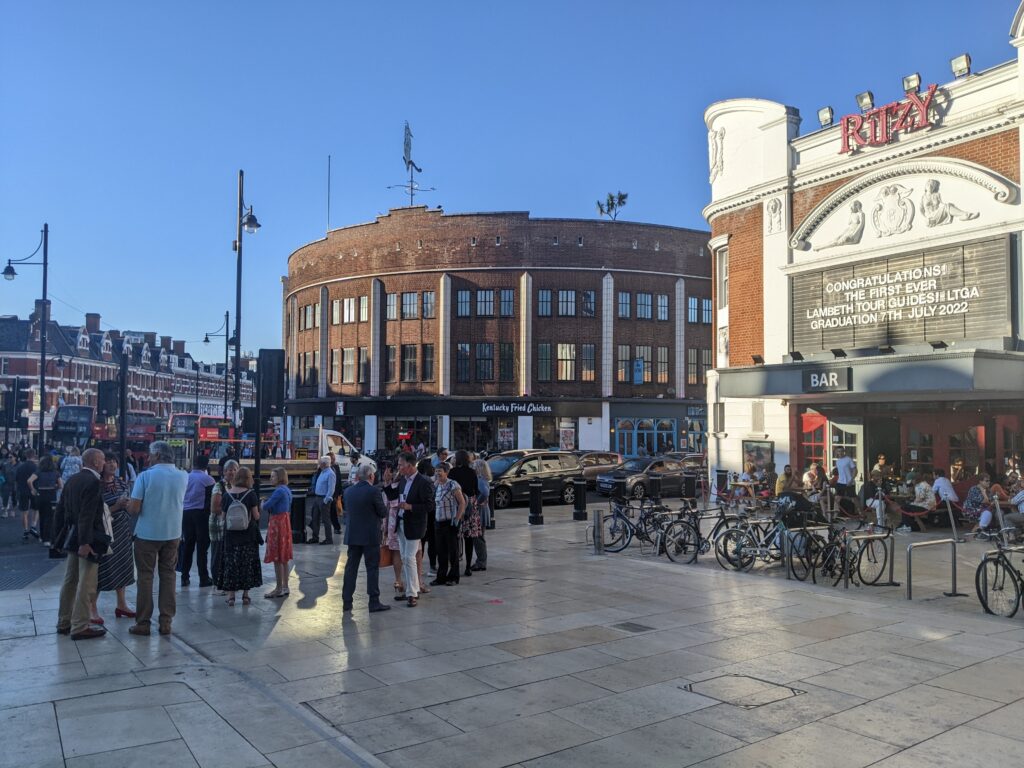 Lambeth Tour Guides will be offering walking tours throughout the borough, focusing on many different aspects – from lost rivers to musical hall stars, from medical innovators to popular artists, from parks and gardens to the built environment. They will introduce their audiences to Lambeth's hidden gems, give voice to men and women who changed history and introduce you to some villains along the way!
The guides could not have completed their unique path of study without access to information from around the borough.
Morley College library stocked a wide range of books on London's history and architecture,
Lambeth local Archives provided invaluable assistance and access to a wealth of research resources. Particular thanks to Len Reilly and Jon Newman.
Lambeth library staff throughout the borough have assisted with enquiries about local records,
Black Cultural Archives provided fascinating materials at a very useful workshop, and
All the local history societies around the Borough, and Friends' groups for specific sites, generously shared their enormous knowledge and expertise.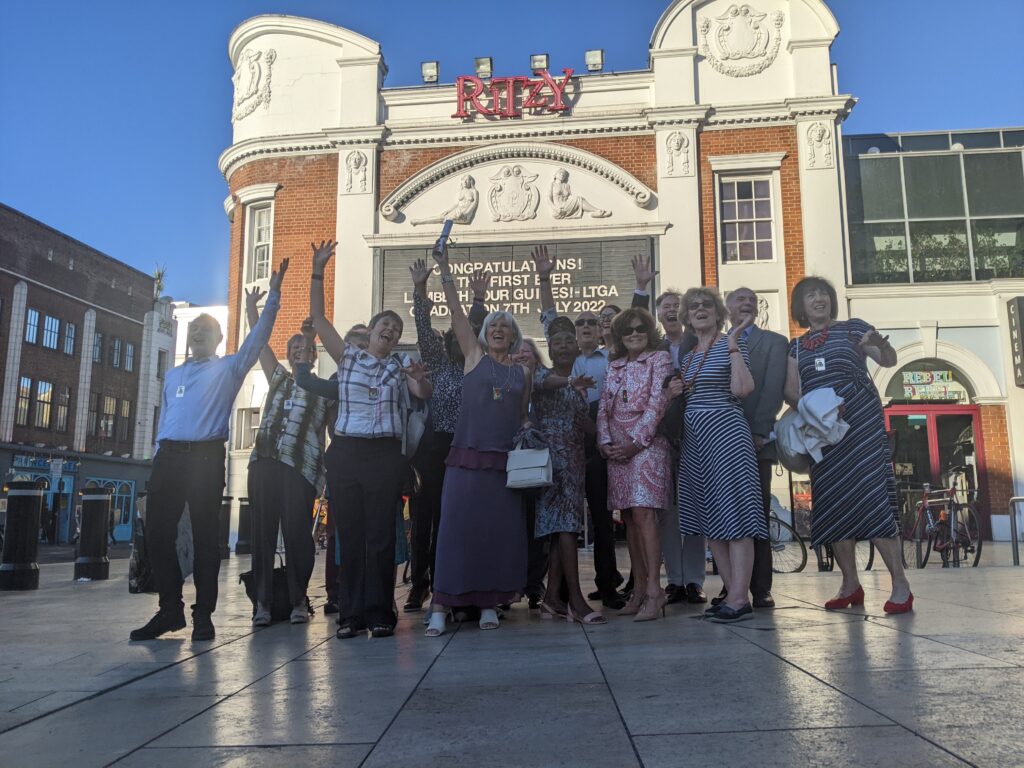 We look forward to seeing Lambeth Tour Guides establishing a presence and a profile within the Borough for both residents and visitors alike.
IN SUMMARY…..
Wonderful evenings were had by all; what a momentous moment in the year to recognise the hard work and dedication shown by students and teaching staff alike. We look forward to next year's awards and continuing our journey in recognising and shouting about the achievements of our students and the experiences they have studying at Morley College London.