Our North Kensington Centre. Learn the fundamentals of artistic glass making – cutting, fusing, foiling – or try an introduction to our jewellery course at our newly refurbished building.
By linking art and practical skills, people can make a living doing what they love. But it's also about the people you meet along your journey. Come and join us for London Craft Week and find your calling.
Read on below for a list of all the workshops we will running. Click the pink 'book now' button to the left of the screen or 'book here' under the workshop of your choice to book to purchase your place. All workshops are £15.00 per person.
Tuesday 9 May: 10:30-13:30 – Make Pressed Flower Art with Stained Glass
Be creative and compose a stained glass panel with the arrangement of colourful pressed flowers. In this tester course, you will have an understanding of how to use the copper foiling stained glass technique, also called Tiffany method with flowers. You will learn the fundamental of stained glass with soldering, colouring and finishing the metal by creating a frame that can be suspended as a decorative glass panel.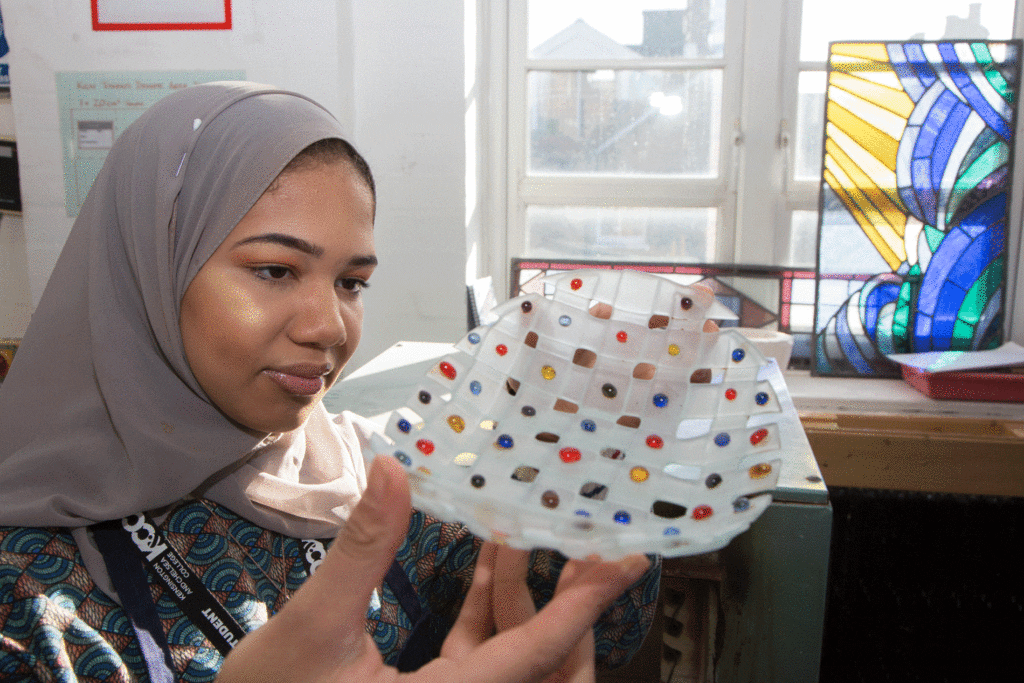 Thursday 11 May: 11:00 – 13:00 – Jewellery Taster
Morley College North Kensington invites you to join us for a jewellery making taster session in our newly refurbished specialist workshop. Come and get creative exploring metal and find out more about our wide range of specialist jewellery making courses. Suitable for complete beginners who want to have a go.
Saturday 13 May: 10:30 – 13:30 – Glass Fusing
Come and enjoy a Fusing Taster session, perfect for anyone who's ever wanted to try their hand working with glass! Explore glass as a raw material in its varying forms including sheet and frit; learn the fundamentals of glass cutting and simple assembly to create small-scale fused glass pieces. This taster provides a unique opportunity to experiment with a range of specialist materials and is the perfect introduction to the art of Fusing Glass. We encourage you to come along and have a go!