Morley College London offers high-quality craft adult education, with a wide range of courses in contemporary and traditional craft skills. As part of London Craft Week, we have a Penny Lecture on Friday 8th October and we will be running workshops and a tour of our facilities in the Waterloo Centre on Sunday 10th October.
Penny Lecture: Magic within Reason by Annie Cattrell
8 Oct, 18:00
Magic within Reason: art and science dialogues as experienced by visual artist Annie Cattrell
Room: Emma Cons Hall
Capacity: 100
Explore Visual Arts at Morley
10 Oct, 13:30, meet in Foyer
Walking tour with Sara Robertson-Jonas, Head of Visual Arts, to visit the specialist art studios, Bawden murals and art collection at Morley College Waterloo, including the Pelham Hall Sculpture building in Lambeth Walk. A chance to ask questions, hear about the present and past of arts at Morley and visit our historic buildings.
Room: Foyer
Capacity: 15
Tickets £15pp per workshop. Book here.
'CLAYMATION'– The Craft of Stop-Motion Film Making with Lucy Orr
10 Oct, 11:00-15:00
This fun workshop introduces you to the use of modelling clay, hand-drawing, computers, DSLR cameras and lighting to create stop-motion animated sequences that will delight and impress!
Room: B23
Capacity: 10 Book here.
Metal Wire Sculpture with Georgina Forewood
10 Oct, 11:00-15:00
Come and explore working with wire in both 2D and 3D.  In this course you will learn about the properties of different types of wires and ways to create artworks with them.  You will learn to control wire including bending and joining and go home with one or two small pieces.  No equipment or experience is required.
Room: B12
Capacity 14 Book here.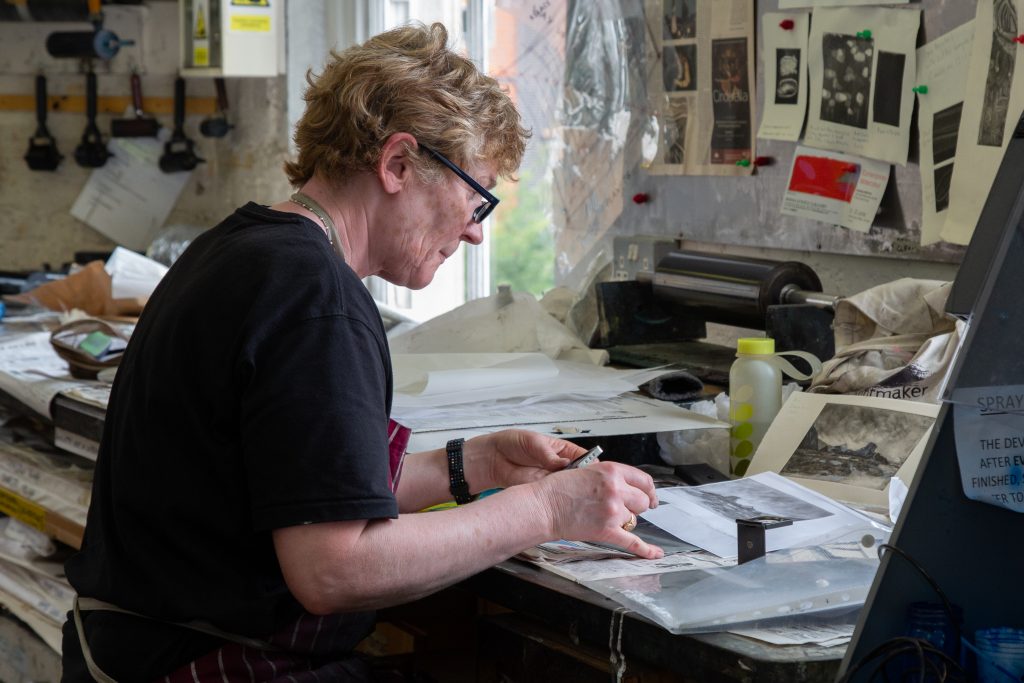 Raku Firing with Viktoria Redman
10 Oct, 11:00-15:00
Raku is an exciting ceramics technique which involves the fast firing and cooling of work in order to produce a range of dynamic and unusual glazed surfaces. Come and see a demonstration of this process in action.
Room: Garden
Capacity: 20 Book here.
Try Drypoint like Rembrandt with SoomMin Leong
10 Oct, 11:00-15:00
Explore drypoint printmaking and draw like Rembrandt. Bring your own ideas for images or work from Rembrandt prints to learn how he layered crosshatched marks to achieve such an amazing range of tones.
Room: Printmaking Studio
Capacity: 10 Book here.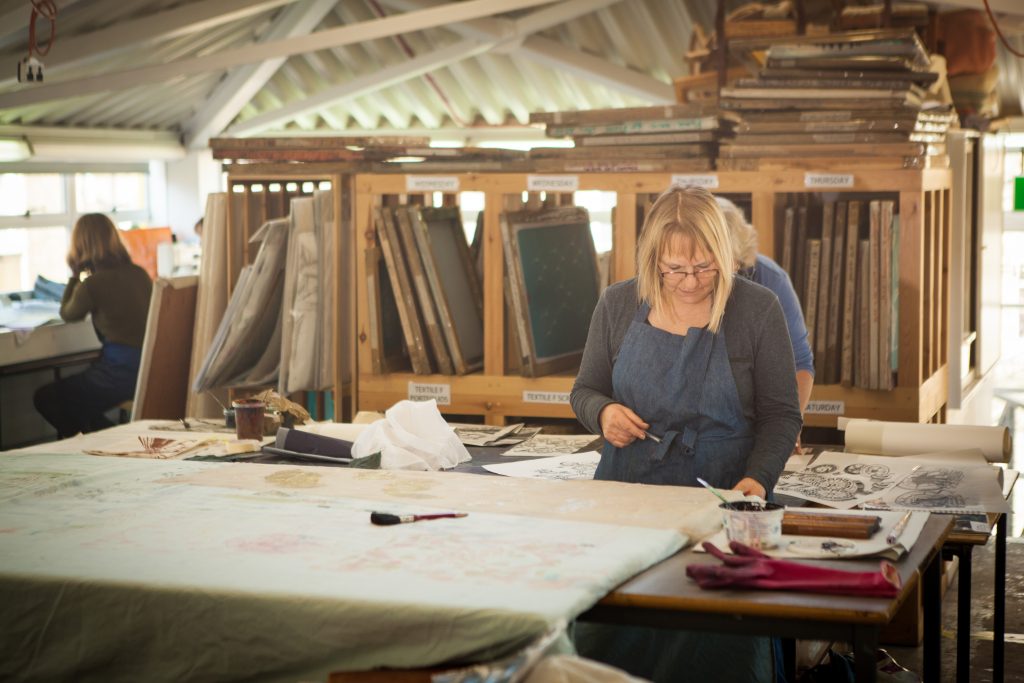 Hand Embroidery with Mary Spyrou
10 Oct, 11:00-15:00
Led by Mary Spyrou, Morley tutor who specialises in World Textiles, textile artist and published author. The Hand Embroidery session will offer an opportunity to learn a variety of basic hand embroidery techniques and stitches, using multicoloured threads and cotton fabrics. You will be able to explore line, colour and texture using the stitches learnt to experiment, develop your own personal design and explore your creativity. Bring a long a garment, accessory or upcycled fabrics to embroider on.
Room: E21
Capacity: 12 Book here.
How to make a Simple Leather Card Holder with Johnette Taylor
10 Oct, 11:00-15:00
Leather making is a fun skill to learn either by getting to grips with the basics or mastering your own style over time. In this 4-hour workshop I will show you how to make a simple leather card holder with just a few tools and some beginners' techniques to take home for yourself, and if you're quick you may have time to make a second for a loved one too.
Room: E13
Capacity: 12 Book here.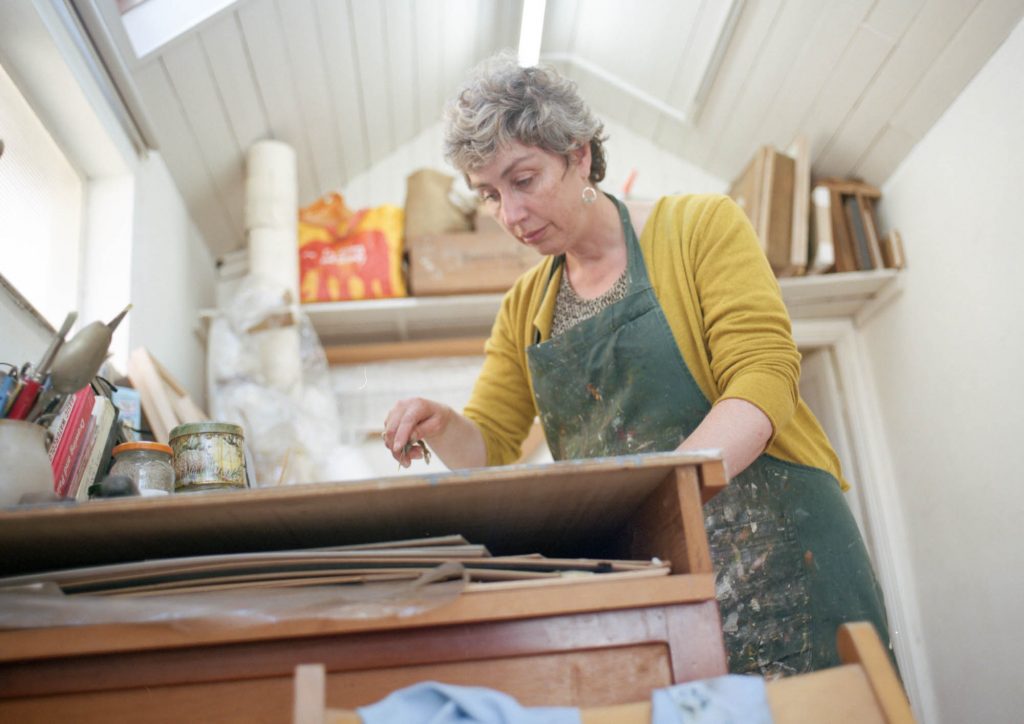 Egg Tempera Painting with Kate Wilson
10 Oct, 11:00-15:00
In this hands-on session, learn how to make paint from ground pigment and egg yolk. Explore the nature of this fast-drying medium; try out different recipes and paint from observation.
Room: C33
Capacity: 8 Book here.
Introduction to Drawing with Brendan Murphy
10 Oct, 11:00-15:00
So you think you can't draw? Join us for this fun workshop and surprise yourself! Learn some basic drawing techniques & learn to draw from observation.

Room: D11
Capacity: 12 Book here.
Tickets £15pp per workshop.