Street artists add finishing flourish to Green Wall
Morley College London's North Kensington Centre was given a visual upgrade last Thursday (10 Feb) as street artists from the community came together to add their own artwork to our new Green Wall on Wornington Road.
Artists worked on the wall all day, adding vibrant characters, motifs and tags, including some memorials to remember Grenfell.
Dino Dalle-Vacche, 23 – who joined the Morley team as part of the Government's Kickstart scheme – created the Green Wall graphic to freshen up the façade during our renovation works. His first large-scale graphic design project, Dino took inspiration from the Grenfell memorial art under the Westway, leaving spaces in the 36-metre-long design street artists to get involved. They added their own unique styles that have recognition and meaning within the community, to which the wall is dedicated.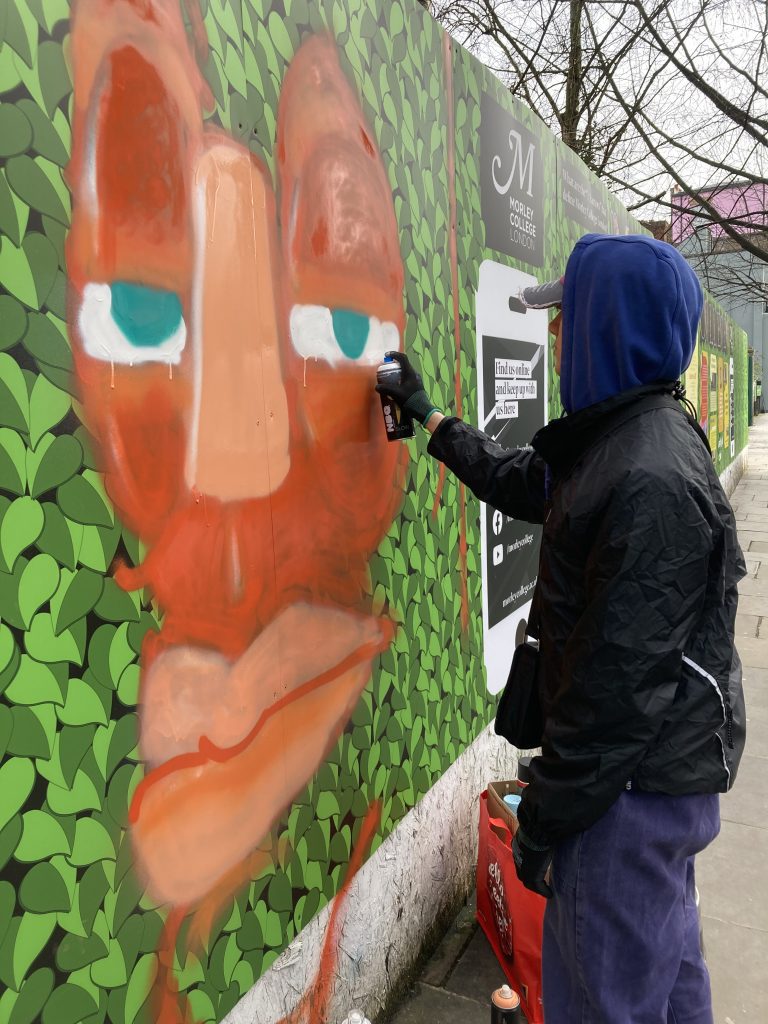 "When working on the green wall project I saw it as an opportunity to take inspiration from this community. If I can make the learners from the community feel like this college is a part of that too then I think I've succeeded."

Dino Dalle-Vacche, artist
The project was officially unveiled at 4pm, by Craig Hanlon-Smith, Centre Principal, who said: "Dino and his colleagues have done a fantastic job in creating this Green Wall. I really liked Dino's design but adding additional art from within the community gives it so much more stature; it really elevates the project."
Matthew Cunningham, Chief Marketing and Engagement Officer, said: "Thank you to all the artists who gave their time and creative skills freely and with such charm and good will and to Dino, for delivering a long lasting project in a short space of time so early in his future career."
£13m renovation underway
A Department for Education (DfE) funded, £13million investment to renovate the college – currently well under way – means that there are visible construction works including scaffolding and hoardings.
Though staff and students know it is 'business as usual', as we return to normal life without Covid-19 restrictions once more, it can be a challenge to appear as welcoming and as vibrant a learning community as we are on the inside, to the outside world.
This Green Wall and some 'We are open' messaging is now in place to help our future learners – adults of all ages and 16-18 year olds looking to further their studies – feel welcome and confident to come in and talk to us about what they would like to study.
A warm welcome
Following the live art installation, the North Kensington Centre enjoyed its most successful Open Evening to date, with a range of enrolments to courses including:
jewellery courses
Access to HE pathways
ESOL courses
essential skills courses
There was also an opportunity to seek impartial advice from our specialised Heads of Subject, who are expert in adult education and making the most of opportunities to learn new skills.
Alex Perry, Head of Communications and Engagement, said: "It was wonderful to welcome so many people in to see us – the majority of whom were very local – and to hear about the range of interests and career aspirations people had. One lady was contemplating a career change following her son's departure to study at University and we hope Morley College London can help her on her journey."
Morley's North Kensington Centre is open every day, and always happy to talk to prospective students and local people wanted to find out about adult and 16-18 education. Click here for contact information.