Postcards of Waterloo: calling aspiring artists who love SE1
Submissions are now open for Postcards from Waterloo, a campaign launched today by HB Reavis and Morley College London, to celebrate Waterloo and everything that is great about this unique area – past and present – as it looks to the future.
The search to discover Londoners' favourite memories of Waterloo is on. A new campaign named Postcards from Waterloo has been launched to uncover and celebrate the hidden stories of one of the capital's best-loved areas. The campaign is led by HB Reavis, the workspace provider behind the redevelopment of 1960s office building Elizabeth House into a new commercial hub, One Waterloo. They have partnered with Morley College London, whose tradition of education in the visual arts dates back decades and whose alumni include Edward Bawden, John Piper, Bridget Riley, Maggi Hambling, Denzil Forrester and Oli Epp.
Postcards from Waterloo will give London-lovers the chance to have their favourite experiences of the area transformed into a multimedia art piece as part of a local exhibition and returned to them afterward. as a keepsake to cherish.
About Waterloo and its community
Waterloo is the beating heart of London. It is home to over 75,500 people and one of London's busiest train stations, welcoming over 99 million people each year. These people, whether residents, workers, theatre lovers or visitors strolling beside the Thames, play a fundamental part in shaping Waterloo's rich and vibrant character.
A place's identity is made up of its people and the experiences they share. Postcards from Waterloo encourages Londoners to recount their favourite moments of Waterloo and its surrounding neighbourhoods, via written stories and imagery. From significant life events with friends and family to spontaneous moments of joy, the campaign will honour memories that illustrate the area's rich history, unique characteristics and people.
About the campaign – visual representation of memories and stories
A selection of the memories submitted will be selected by a panel consisting of key community figures – Nic Durston, Chief Executive Officer at South Bank Employers Group; TJ Jacobs, Social Impact and Inclusion Manager at HB Reavis; and Sara Robertson-Jonas, Head of Visual Arts at Morley College London's Waterloo Centre. The panel will search for memories that best reflect Waterloo's ever-evolving character.
Students at Morley College London will create a visual interpretation of the selected memories in the form of mixed media illustrations, tapping into a different mediums, from photography to mosaics and fine art. Once the memories have been immortalised as fixed artworks, they will be displayed in a public exhibition during summer 2023 at Morley College London.
After being exhibited, those whose entries have been selected will be able to keep their artwork as a creative keepsake of their cherished memory. The artworks will be reproduced and displayed on the temporary hoarding that will surround Elizabeth House on Leake Street as the site is redeveloped into 1.3 million sq ft of sustainable workspace, One Waterloo.
Cyril Johnson – twenty years at Elizabeth House
Cyril Johnson is one of the Londoners who is taking part in the campaign. Cyril has worked at Elizabeth House since April 2000 as a security supervisor and is responsible for keeping the building, and those working in and around it, safe. Over the past two decades, Cyril has watched the area transform. One thing that has remained is his love for his work and the place around him.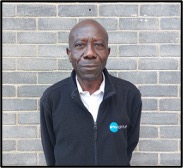 Cyril Johnson, security supervisor at Elizabeth House, said:
"To me, every day is a good day. When you work somewhere for more than 20 years it becomes more than a job, it is like my home – I fit in here. I've patrolled the area overnight, on Christmas Day and at the weekend, watching the world of Waterloo go by. One of my favourite memories is dancing the night away after watching a show at the Old Vic.
"I'm excited to see what the future brings for the Elizabeth House site, and the opportunity it brings to people and businesses in the area."
Submission details
A selection of memories will be transformed into artworks by students at Morley College London's Waterloo Centre. They will be exhibited in summer 2023.
Selected participants will receive the visual interpretation of their memory as a keepsake after the exhibition.
The deadline for the submission of memories is 5pm on Thursday 1 December 2022.
For more information and to submit your favourite memories, please visit the HB Reavis campaign website, or submit a physical entry at Coin Street Neighbourhood Centre or St. John's Church, Waterloo.
Speaking about the Waterloo community TJ, Senior Social Impact and Inclusion Manager at HB Reavis, said:
"We've been working on the ground in Waterloo for several years preparing the much-needed redevelopment of Elizabeth House and creation of new public spaces in the area to improve connectivity and accessibility for the local community, visitors and commuters. We've come across countless stories and beautiful memories of the area which we want to pay tribute to. There is no one better placed to tell the story of Waterloo's past and present than the people it attracts."
Sara Robertson-Jonas, Head of Visual Arts at Morley College London, said:
"At Morley we serve, work in partnership and come together with Waterloo's diverse communities, including local residents, commuters, local businesses and employers. Many of our staff have strong local links and roots in Waterloo. We are a hub for the creative arts and our students are the artists and designers of the future.
"We are delighted to be working with HB Reavis on this project and I am looking forward to seeing students' creative designs on display as One Waterloo comes to life. This represents for us an opening up and a joining together of many of Waterloo's communities…and is something to celebrate."
For full terms and conditions regarding the submission of memories, please visit the HB Reavis campaign website.