A world of choices for school leavers
If you're one of the thousands of 16 year-olds receiving their GCSE results today, and you've yet to decide what's next, we're here to help at our North Kensington and Chelsea Centres.
If you're celebrating good results, congratulations – you've done brilliantly. If you didn't get the grades you hoped for, don't worry – there are plenty of options out there.
Over the coming week here at Morley College London we're ready to welcome you at our Open Enrolment events, where we'll be able to advise you on your best next step…whatever your results.
The "C" in Chelsea stands for Creativity…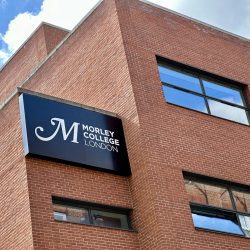 The Chelsea Centre for Creative Industries is a great place to study if you're keen to explore your own creativity, or you're set on a career in fashion, design, media or any of the other amazing careers in one of the UK's booming employment sectors.
Here are three options to get you thinking…
Esports is a great choice for anyone looking for an exciting option that combines creativity, business and digital learning. Take a step towards your future in the fastest growing media industry on the planet.
A diploma in Art and Design is perfect for you if you know you've got potential as a creator, but you're not sure what path to take. You'll have opportunities to explore the fields of Design, Fashion, Art, Film, Photography and Graphics, and our supportive team of lecturers will help you develop the skills you need to advance your learning in the creative industries, whichever path you take.
A two-year extended diploma in Graphics, Illustration and Games Arts is for students looking to get into the Design industry, where the UK is a world leader. You'll study three core units per year, all of which work together to allow you to develop the cross-disciplinary skills in digital, design and drawing that the industry now needs.
Amongst the choices available are some great Level 1 and Level 2 options, which are particularly worth thinking about if your GCSE results aren't quite what you'd hoped for. These are courses that give you a chance to explore the world of Esports and Media or the work of Art and Design in a specialist environment…and they are the perfect preparation year to take you onto your next career option.
"With newly expanded and refurbished classrooms and studios opening at the beginning of September, and more exciting renovations to our public areas due to complete in mid-October, we're able to offer best-in-class facilities for students interested in the creative industries," said Matias Shortcook, Centre Principal at the Chelsea Centre for Creative Industries.
"Join us over the coming week and find out more about West London's best centre for creative learning for 16 year-olds."
Science, business and technology at the heart of North Kensington's provision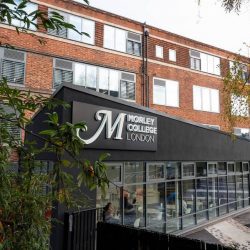 The North Kensington Centre for Skills – located in the heart of one of London's most vibrant districts, and recently refurbished to the tune of £13m – offers a varied curriculum that gets to the heart of what today's employers are looking for.
Here are three options to consider:
An Extended Certificate in Business gives you a grounding in business skills – from branding and marketing, to finance, project management and customer service. It'll act as a springboard to higher level qualifications in business, or an apprenticeship.
A course in Applied Science covers the key scientific principles across biology, chemistry and physics with a focus on practical scientific skills. It's delivered in our brand new state-of-the-art science laboratories.
Studying for an Extended Certificate in Information and Creative Technology opens the door to a wide range of job opportunities including software engineer, website content manager, computer animator, helpdesk support, and graphic designer.
"We're also introducing some new options for our 16-18 year-old students this year," said Craig Hanlon-Smith, Centre Principal at the North Kensington Centre for Skills.
"I'm particularly excited to be launching new courses in Music Industry Skills at Level 2 and Music Performance or Production at Level 3. Students will have the opportunity to be the first to use our completely new music studios and rehearsal rooms."
Morley is also one of the first colleges to be offering new T-levels from this year. Offered in North Kensington, sign up today to study for a T-level in Health (Science) or Digital Business Services.
The Morley difference
Life at Morley has a different type of energy that really sets you up for life in future employment or Higher Education.
As well as your formal studies, there are plenty of opportunities to build your skills and explore your passions through things like Morley Radio and the Morley Gallery…we like to think of these as the "X factors" that make Morley unique, and we think you will too. Read more about the 'X of Morley' by clicking here.
Perhaps most importantly, we treat you as an adult from the day you arrive…but we make sure you're fully supported until the day you leave.
And if you're a Morley student celebrating your own results today…
Well done, we're proud of you.
"With over 50% of students on this year's GCSE English course achieving at least a grade 4 (equivalent to grade B), our results this year show that Morley is a great place to study for GCSEs," said Craig Hanlon-Smith, Vice Principal (Student Engagement).
"This is particularly the case for those who – for whatever reason – haven't achieved a GCSE in English or Maths previously."
Anyone interested in coming to Morley to study for a GCSE in English, Maths or selected other subjects is welcome to join us at our Open Enrolment events, or any of our upcoming Open Days.
Your next step
Join us at our Open Enrolment events at North Kensington or Chelsea – running until the beginning of term.
Give us a call on 020 7450 1889, where one of our friendly student advisers can help find the right course for you.
To read more online, visit our 16-18 hub or explore our other qualifications for adults.