On a hot summer's night in New York on June 28, 1969, police raided the Stonewall Inn, a gay club in Greenwich Village, which resulted in bar patrons, staff, and neighborhood residents rioting onto Christopher Street outside.
The message was clear: protestors demanded the establishment of places where LGBT+ people could go and be open about their sexual orientation without fear of arrest.
Christopher Street Liberation Day on June 28, 1970, marked the first anniversary of the Stonewall riots with the first Gay Pride march in New York history, and Pride Day commemorates these landmark moments.
Follow these links to learn more about the diversity of some of the Morley communities that celebrate Pride Day:
Pink and Blue
Sexuality isn't the obvious focus of the English Heritage blue plaque scheme but look behind the names and there are fascinating and unknown stories. But that's not the only way LGBT+ life is marked in London. This podcast looks at plaques, monuments and statues which add to the recognition and understanding of our culture stretching back through the centuries.
Penny Lecture: "Curing Queers" Mental Nurses and their patients, 1935-1974
Drawing on a rich array of source materials including previously unseen sources, 'Curing Queers' – delivered by Dr. Tommy Dickinson, Reader in Nursing Education and Head of the Department of Mental Health Nursing at King's College London – examines the plight of men who were institutionalised in British mental hospitals to receive 'treatment' for homosexuality, and the perceptions and actions of the men and women who nursed them.
Lambeth Links Listens
With four episodes under their belt, the Lambeth Links Listens podcast is a monthly show by Lambeth's LGBTQ+ forum. June's edition features Giles Goddard, Vicar at St John's Church Waterloo, and a discussion that covers the intersections of religion and sexuality, why there is such a gap between the two and what an even more inclusive church might look like.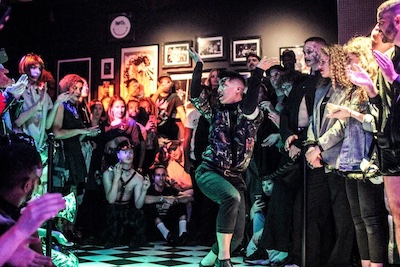 Vogue Dance Art and Culture
Vogue dance art – born from the creativity of 'black and Latino LGBTQ communities' in Harlem, New York City, in the 1980s – developed as an expression of identity, struggle, aspiration, freedom and beauty. Learn more here about this highly stylised dance form, including access to a podcast with Morley dance tutor Tony Tran.
The Log Books
Adam Beral's podcast guests are Shivani Dave & Tash Walker, producers of the The Log Books. The Log Books is an award-winning history of LGBTQ+ life in Britain as noted by volunteers at the helpline Switchboard. Each episode of this stirring podcast centres around log book entries made by the volunteers who staffed the phones from the charity's very first day. As a helpline for anyone who wants to talk about gender identity and sexuality, Switchboard has been hearing about, and helping, queer life since 1974.
Test your knowledge…
…with our LGBTQ+ history quiz.