Remembering Frank Connelly
21 February 1948 – 13 January 2021
Head of Morley College Printmaking Department 1999- 2015, started working at Morley College in the 1970s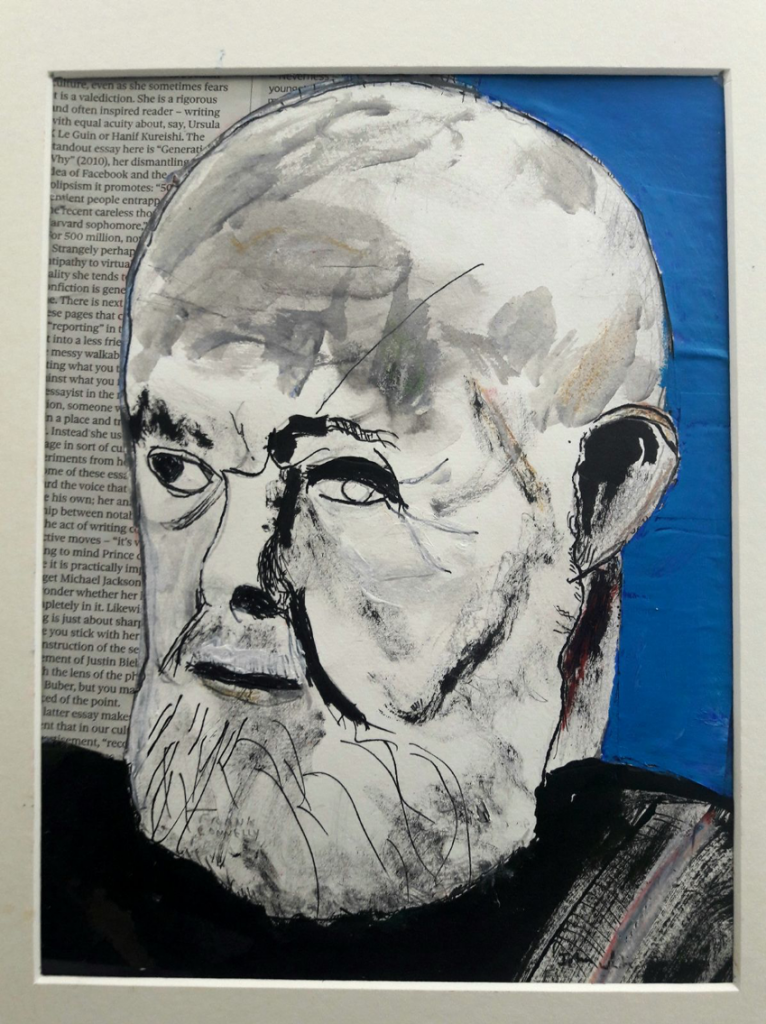 Adrian Bartlett, Tutor and Head of Department, 1962-1999 Morley College writes:
I met Frank nearly fifty years ago. He was working at Birgit Skiöld's pioneering Print Workshop in the basement of Adrian Heath's house in Charlotte Street.
At this time the Art department at Morley, and especially Printmaking, was expanding rapidly under the direction of Lawrence Toynbee and the Principal Barry Till. Barry's approach to employing tutors was to go for expertise and Frank was valued highly by Birgit as a technical wizard, as well as being an interesting artist himself. Sooner or later, we needed more tutors and invited Frank and also Richard Michel, who also printed for Birgit, to do some teaching. My view that teachers are born was confirmed.
Frank was exceptionally generous with his expertise and the time and attention he gave to his students. He had a deep knowledge of art history which gave his teaching a fuller context than just technical instruction.
He will be fondly remembered by all who knew him.
Jane Joseph, painting tutor at Morley writes:
While teaching Painting and Drawing at Morley in the 1970's I ventured one floor higher in the same building and started to learn etching with Adrian Bartlett. I met Frank soon after he started teaching there and later attended his class. We became friends through Morley and the fact that he lived for many years very near to me in West London.
Whether working with student printmakers or developing prints with professional artists, Frank seemed to have an innate understanding of what they wanted to achieve and had at his fingertips the most straightforward way of helping them achieve it – a translation game in which he was completely fluent. Fuelled by his great knowledge of art and literature, Frank was a generous and erudite teacher: he was patient beyond words, kind, practical and always funny. He had a keen following in his classes to the extent that some of his students would not contemplate being taught by anyone else.
As an artist, Frank was, I think, too modest, too self-effacing. I am lucky to have a beautiful colour etching of his from the time in the 1970s that he lived in a tower block in North Kensington.
Michelle Avison, Programme Manager Printmaking & Bookbinding writes:
I will never forget Frank telling me about his first teaching job at Leeds College of Art, when he apparently taught stone lithography (a complex printmaking technique) with the instructions written on his arm, under his sleeve. Whether true or not, this story sums Frank up for me, personally and professionally- always ready to tell a joke, often against himself, always up for a challenge, unfazed by any new printmaking technique (he embraced digital technology and became adept at photo-etching), and able to solve any technical problem. As a colleague, he shared his knowledge unstintingly, plus had us in stitches with his wry observations and truly funny stories. With a deep knowledge of classical music, opera, films and literature, it was a joy to talk to him, and he often shared CDs with me of some of his favourite music. As an artist Frank was a brilliant etcher- his prints demonstrate a complete understanding of technique and drawing, particularly in the use of aquatint. His prints reflected the world around him and found real beauty of composition and drama in gritty imagery, for example of a fight in the streets of Plumstead, South London where he later lived.
Frank introduced hundreds, if not thousands of students to the fun and joy of printmaking and was a continual inspiration to them. He had a loyal following of students, many of whom studied with Frank for many years and who became close friends, they all benefitted from his ideas, technical know-how, his generosity and, putting it simply- his fantastic company.
We will miss you, Frank!