As part of Black History Month, and to accompany "When Brixton Went on Fire" a photographic exhibition illustrating the Brixton Uprisings of 1981,Morley Gallery held a panel discussion: "Reggae as Resistance: The sounds of 1981 and beyond" on Thursday 21st October 2021. The event, which included music, explored how Reggae sound-tracked an era of upheaval and, in doing so, changed British musical history forever. The event was part collective memory and part cultural critique of this pivotal moment and its unique sound. The panel consisted of a range of experts, each with unique knowledge and experience, including: Edward George (Black Audio Film Collective and 'The Strangeness of Dub', Morley Radio); June Reid (Nzinga Soundz Soundsystem); Lynda Rosenior-Patten (Nzinga Soundz Soundsystem); Professor William 'Lez' Henry (University of West London) and Markie aka Jah Lingwa (Universal Roots Records, Brixton). The discussion was hosted and mediated by Melissa Baksh, Gallery and Exhibitions Officer at Morley College.
Reggae music and Soundsystem culture, originating in the Caribbean, arrived in the UK in the late 1940s via the Windrush generation. Enjoyed amongst the Caribbean communities in the UK, many of whom resided in Brixton, dance parties allowed Black Britons to carve out a safe space for expression, unity and joy. Yet despite its sweet melodies, Reggae music, with its bass-heavy reverberations, has always been a form of protest, and a voice for the oppressed. Since its arrival in the UK, it has been a powerful symbol of resistance against rampant discrimination and racism – both every day and institutionalised. The discussion tackled a variety of these important issues, answering questions such as: "What is it about Reggae music that speaks directly to Black struggle and oppression?", "What role did women have in shaping the culture?" and "What has changed, 40 years on?"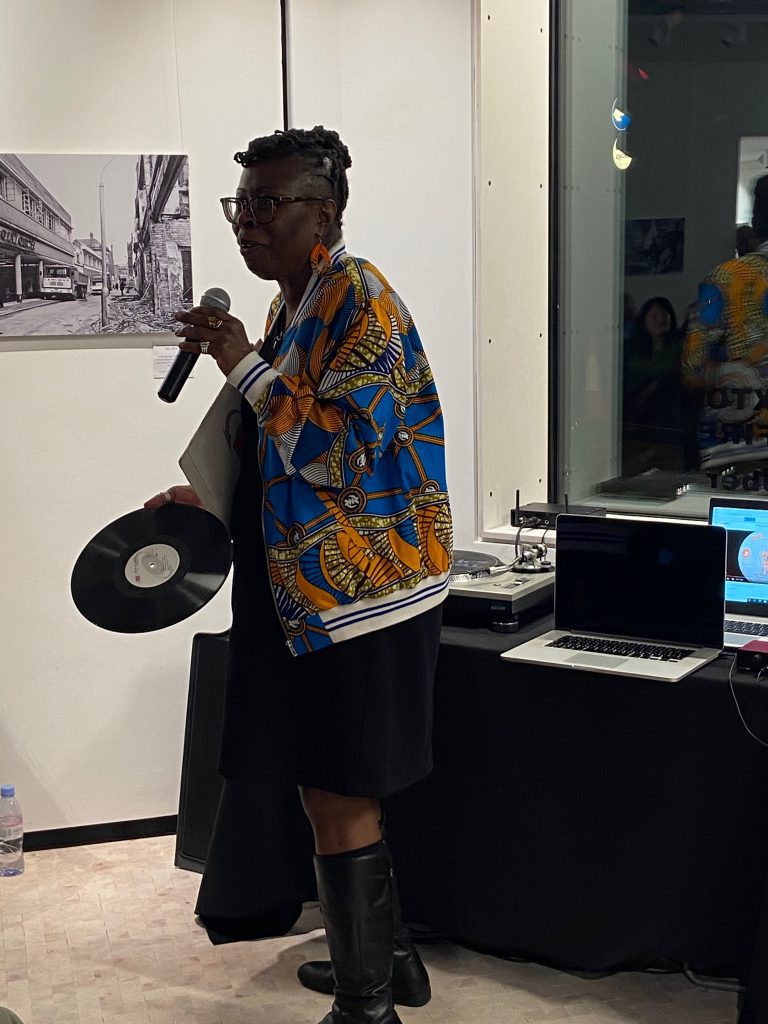 The thought-provoking panel discussion included musical representation and expression, with each panellist playing aloud one record which, for them, spoke to this idea of Reggae music as a form of resistance. The music chosen, which included tracks by Aswad, Misty in Roots and Bob Marley, explored different issues relating to the social injustice experienced at the time. Through each track, the audience moved in awe, brought together in remembering, and for some, bringing to life the story of Reggae and its influence on British musical history.
Luke Scott, Head of Music and Performing Arts at Morley College, commented: "The event was really enlightening, with the panel speaking from first-hand experience of the events – how it impacted on their lives and how it has been portrayed by the media. The mixture of conversation and music worked really well, as the audience experienced music the panel thought defined their experience and then heard the personal context of why it meant so much to them! The event made you feel and think!"
Black feminist historian and writer Jade Bentil, said: "It was such a beautiful combination of oral history, cultural criticism, collective memory and music history that will stay with me for a very long time to come. With so few avenues and spaces for us to have these conversations, it was foundational to see the interlocutors who were at the forefront of this particular historical moment have the time and the platform to speak and share their stories and analyses in detail."
Event curator and host Melissa Baksh, says: "It was an honour and a privilege to hear the incredible individuals on the panel speak, from the heart, on their experiences and issues that unfortunately still affect people today. I believe my generation are hugely indebted to those who have come before us and the work they have done which means that our journeys are easier than theirs were. Despite the indisputable sadness around topics such as racism and police brutality that the discussion brought to the fore, this event was also a celebration – a celebration of music, of community, and of these individuals."
We would like to thank our panellists: Edward George, June Reid, Lynda Rosenior-Patten Professor William 'Lez' Henry, Markie aka Jah Lingwa and Melissa Baksh for bringing this important discussion and musical celebration together. Thanks also to Voices Radio for supporting the event – anyone who missed out will be able to listen to the conversation below.