Morley publishes plans for the future
Morley College London – the capital's largest Institute of Adult Learning – has published a Preliminary Release of its Strategic Plan for the period 2021-25.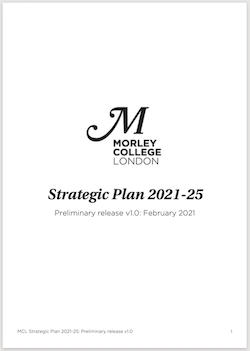 Due to be expanded in the second half of 2021 – once the ramifications of an unprecedented period of external change have become clearer – the Plan sets out the college's mission, values, vision and strategic goals for the coming five years.
"As the capital looks to come to terms with an unprecedented period of uncertainty and change, so Morley looks to support each and every student on their learning journey – whether that's a 16 year-old looking to upskill for a dynamic labour market, an adult seeking to reskill and effect a career change, or anyone looking to enjoy learning for personal development and the sake of their mental or physical wellbeing."
Principal and CEO Dr. Andrew Gower said: "At a time where the challenges of the present day can feel all-encompassing, I am delighted that Morley is setting out a vision for a bright future.
The college will publish a final release of its Strategic Plan in advance of the start of the 2021/22 academic year.