Art studio named after Morley Fellow Denzil Forrester MBE
Morley's Waterloo Centre is home to a thriving community of artists and creators who owe their success in part to inspirational tutors like Denzil Forrester MBE, who taught painting and drawing at Morley for over 30 years.
To mark the start of a new academic year, the College hosted a reception to dedicate the studio in which he practiced for many years to Denzil Forrester.
Sara Robertson-Jonas, Head of Visual and Digital Arts, said:
"During his time at Morley, Denzil inspired generations of students to achieve their potential as artists. Denzil epitomises the many high calibre tutors at Morley who are professional artists, musicians and writers who come to share this love of creativity with others.
"Denzil's students speak about the wonderful impact he has had on their lives. Denzil was a truly dedicated tutor, every lesson was special for him. It is wonderful to now see him receive international recognition for his work and for us to commemorate his contribution to Morley by naming his favourite teaching space The Denzil Forrester Studio"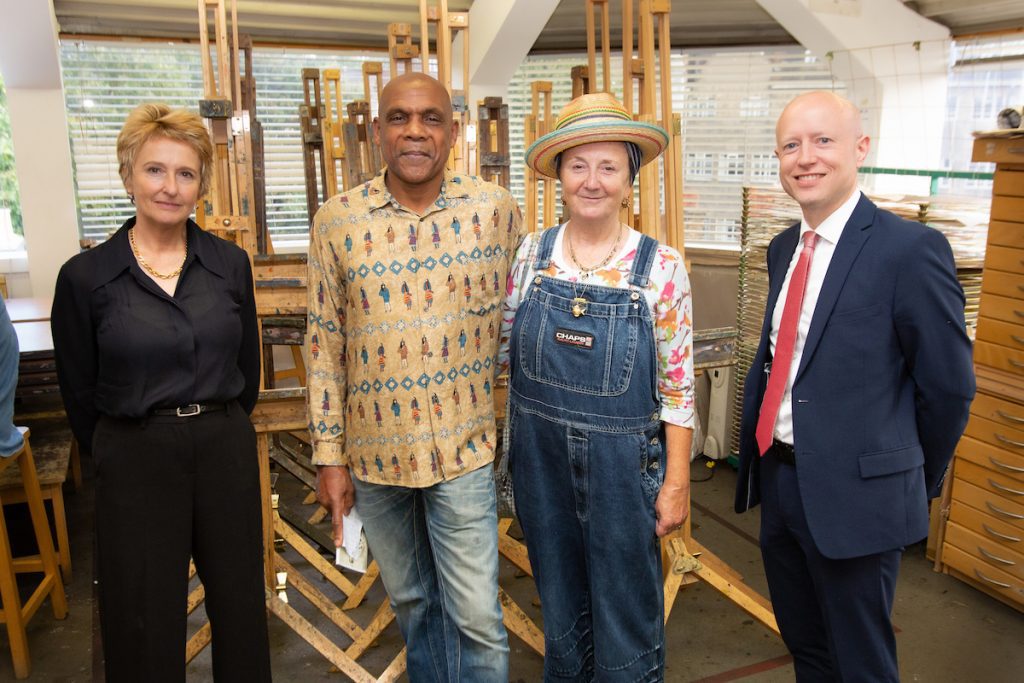 Born in 1956 in Grenada in the Caribbean, Denzil Forrester moved to England when he was aged 10. He attended the Central School of Art, earning a BA degree, and was one of only a few Black artists to gain an MA in Fine Art (Painting) at the Royal College of Art in the early 1980s. In 1983, he won the Rome Scholarship, and subsequently received a Harkness Scholarship that enabled him to spend 18 months in New York City.
He has also been the recipient of two major awards at the Royal Academy Summer Show, including in 1987 the Korn/Ferry International Award. His paintings are in the collections of Freshfields, the Arts Council of Great Britain, the Harris Museum and Art Gallery, Preston, and the Walker Collection, Atlanta.
In 2019, Art on the Underground commissioned Forrester's first major public commission, a large-scale artwork titled 'Brixton Blue', to be on view at Brixton station from September 2019 to September 2020.
Forrester was appointed Member of the Order of the British Empire (MBE) in the 2021 New Year Honours for services to art.
Browse Morley's extensive range of courses in the visual and digital arts.